Auto Photo Library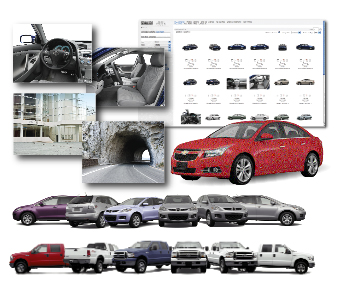 If you have auto advertisers then it is time to test drive and see for yourself why this is the auto library of choice! Email us using the link above or call 800-223-1600!
In a single, easy-to-use location, this essential online service gives you a valuable archive of auto images from 2000 to present, for all makes and models, for creating dealer auto ads. Choose from multiple, consistently lit views of each vehicle, color views for every manufacturer color (as of 2006 models), three interior shots of each vehicle, as well as location backgrounds for use with any model, to accommodate the needs of your auto advertiser and layout design.
Instant Access — Anyone in your organization, anytime, anywhere, 24/7/365, can select and download from thousands of new and used automobiles from all the major manufacturers.
Quick and Easy — Using MCC's state-of-the-art search engine with handy pull-down menus, immediately isolate years, makes and models.
High Resolution — Each file is presented in 300 dpi; RGB; JPEG format for quick downloads and flexible production.
Silhouette Mask — Every vehicle has a dormant silhouette clipping path that can be activated in Adobe Photoshop®. There, files can be resaved as CMYK for printing as either TIFF or EPS with clipping path, in your desired size and resolution.
Multiple Views & Colors — Each vehicle is available in six exterior and three interior views, all shot in a state-of-the art studio, providing you with consistent lighting at every angle. Choose the optimal angle for each ad layout. Plus, starting with the 2006 model releases, every model color that is available from a manufacturer is provided.
Background Photos — Created for you to place autos in a realistic setting, these photos can take your auto ads to the next level and gain more exposure for a specific make and model.
Project Organizer — Select and save choices for later review and download with the security that they'll be there when you need them.