Plus Business Success Stories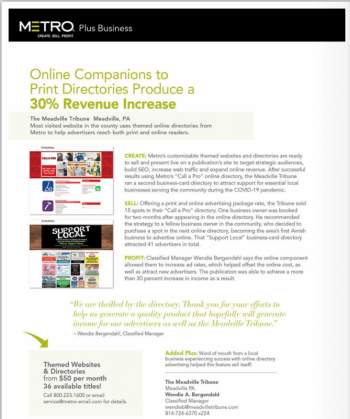 Be a part of the Plus Biz network by sharing your success story. Call 800-223-1600 today or email us from the link above!
Plus Business® is a networking resource, brought to you by Metro, that reports on advertising and promotion ideas that publishers have successfully used to generate revenue.
A Must Read — Metro Plus Business is a unique resource that provides the perfect forum for the creative exchange of moneymaking ideas. Articles describe the "how-tos" of executing successful ad and promotion ideas that other publications have already proven profitable for creating special sections, contests, themed pages, sales incentives, special events, Web pages, and more. Each story ends with contact information so you can communicate directly with the people involved in making the idea a success at their media company.
Creative Brainstorming Sessions — Turn to Metro Plus Business in the Sales area of MetroCreativeConnection for a valuable creative and sales brainstorming session right on your desktop. Search for idea-generating stories and trends by keywords such as "home" or "dining guide," or by Most Recent, to find timely ideas you can implement in the coming months. Whatever your search, the results you find will help generate sales when adapted and put into action within your market.
Access — All Metro subscribers can access articles from the Sales area of MetroCreativeConnection, where stories are archived and available in PDF format to read, download, share and print individually. You will also find the popular Metro Ideas pages, as well as Metro's Sales Tips, News Tips & Ideas, and Picks Tips & Ideas emails conveniently archived. Think of the Sales area as your personal access to an ongoing "creative idea exchange" session.
Featured topics include:

Themed special sections
Contests
Self-promotions
Circulation builders
Ad campaigns
Seasonal and holiday editions
Specialty/niche publications
Special pages
Online sections & promotions
Multimedia programs