Pulse + Metro Special Sections Program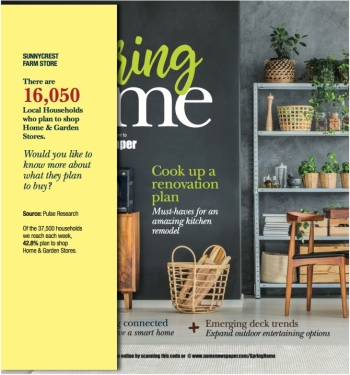 Pick a section, set up your call plan & wrap the ready-to-sell section with a teaser to start a conversation and make the sale! Call 800-223-1600, or send an email, to set up a demo!
"I'm closing up to 90% using spec ads from Metro's ad Wizard. I would highly recommend presenting a prospect their customer shopping opportunity with Pulse and then showing the business they can reach those potential customers with a spec ad." Amanda, Kingman, AZ
Quickly increase advertising and special sections revenue with the Pulse + Metro Special Sections Program
Consumer buying data, combined with presentation-ready ads and sections, is the basis of  this comprehensive toolkit which delivers ready-to-sell spec ads and special sections.
Generate purchasing data teasers for any business category using Pulse to open the door, then generate a personalized spec ad though Metro's ad Wizard to close the sale — search by business category and personalize ads in seconds 1-2-3.
Or, select  one of Metro's 24 fully-templated  themed section topics and combine it with a digital sales call reporting tool and data-driven Teaser sales presentations — over 500 business categories to instantly engage and track section advertising.
Generate Personalized Spec Ads for Each Prospect 1-2-3 With Metro's Ad Wizard
Choose spec ads based on data for top potential advertisers
Add business information and view resulting spec ad options
Generate personalized spec ads to present in conjunction with consumer-buying data teasers

Save Time and Resources With Revenue-Ready TEMPLATED SPECIAL SECTIONS (TSS) 
Choose from fully written, designed and ready-to-sell sections for over 24 top-selling topics
Use in-place ad spots and copyright-free editorial features for traditional and native advertising
Expand digital advertising and audiences with coordinating mobile-responsive themed e-section websites and directories

Facilitate Sales Planning and Tracking With PULSE CALL PLANNER 
Quickly identify hot leads specific to a month or a section topic
Automatically generate a call list using sales data and geo prospecting tools
Record, share and track updates from anywhere with a digital sales activity report

Wrap Ready-to-Sell Sections With PULSE TEASERS to Start the Conversation and Make the Sale 
Get specific consumer spending data in your region for hundreds of advertisers
Customize and print a Teaser for section prospects in less than 15 seconds
Show prospects the local spending opportunity you can help them capture 

Click on the video above to view a 7-minute overview of the Pulse + Metro Special Sections Program.
Save production time, simplify the sales cycle, attract more advertisers, and transform your special sections program into a rich and reliable revenue source with Pulse + Metro Ad Sales Program. Get started today by calling 800.223.1600 or email us using the link on this page.