Revenue-Generating Digital & Print Event Calendars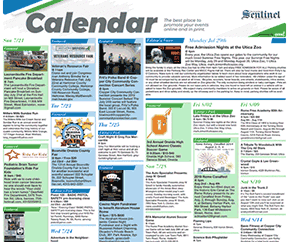 Become the Epicenter of Local Events, In Print and Online, and Gain a Distinct Advantage in Your Community.
With EVVNT & METRO, you can now connect event marketers to your publication and readers instantly with an automated online marketing platform that can also reverse-publish to a print calendar, making the entire process fast, simple and highly profitable!
Here's how it works: 
EVVNT software allows any event marketer to submit their event to your online calendar. Event marketers can then automatically access additional distribution to a network of more than 3,500 websites by category and location, giving them an even greater incentive to get on board.
While events will automatically appear for free in your digital calendar, you can offer marketers upsell opportunities for advertising in the print calendar, status upgrades like "editor's pick" or "featured" events, voice marketing and more valuable add-ons. This gives you the ability to create incremental revenue from an avenue that previously brought in little to no profit.
In addition to event marketer submissions, EVVNT can automatically populate your calendar with events from Ticketmaster, Eventbrite and other channels, so you always have a robust calendar base.
Through an easy-to-use CMS, your digital calendar can be curated and automatically converted to a ready-to-publish, revenue-generating print calendar like the one shown on this page.
Use print pages to cross-promote your online event calendar and listings, and quickly generate as many automated print pages as you need to accommodate premium event advertisers.
With print and digital event calendar automation from EVVNT and METRO, you have what you need to:
Generate thousands in new business advertising revenue from the events industry.
Solidify your position as the go-to resource for what's happening locally.
Save hours of research and production time.
If you want to take the next step towards a new event-based revenue program, reach out using the email link on this page.  
---
"Evvnt's service fills a need in the marketplace that we didn't even know was there. We've had people buy event marketing online and have had great success selling the sponsorship page of the print calendar. For example, two reps went out the other day and immediately sold the sponsorship page to two clients for 26-week runs!"
Steven Blank
President and Publisher, Blank Slate Media

"Sophistication made easy! My partnership with Evvnt has opened my eyes to the world of event marketing. Saving time by having my events populated on qualified, relevant, event listing sites in a matter of minutes along with search results is… game changing". Using Evvnt's reporting analytics to provide greater transparency, around our campaigns only adds to the value proposition of Hearst Media. I'm a firm believer that Evvnt is changing the event marketing space and I look forward to seeing what else this dynamic team brings to the table."
Franc Coleman
Announcing our Exclusive Partnership with Hearst Communications

"I was introduced to Evvnt via an industry angel event and as soon as his presentation was over I gave Richard my card and said we wanted to invest. Our concerts division will do over 150 concerts in the next twelve months and Evvnt solves a huge problem in how to create awareness of events from search engines."
David Dunn-Rankin
President D-R Media